Grilling is undoubtedly one of the most enjoyable ways to cook and savor delicious meals, especially during the summer months. However, as any grill master knows, cleaning up after grilling is just as important as the cooking process itself. In this comprehensive guide, we will equip you with the knowledge and techniques necessary to effectively clean a flat top grill. From removing stubborn grease to maintaining optimal performance, we've got you covered. Let's dive in and discover the secrets to a spotless and well-maintained flat top grill!
The Importance of Cleaning Your Flat Top Grill
Cleaning your flat top grill is not only about hygiene and aesthetics, but also essential for maintaining its functionality and prolonging its lifespan. After each grilling session, food residue, grease, and carbon buildup can accumulate on the surface, affecting the grill's heat distribution and even causing flare-ups. By regularly cleaning your flat top grill, you ensure consistent cooking results, prevent potential health risks, and extend the longevity of your beloved grilling equipment.
Preparing Your Flat Top Grill for Cleaning
Before diving into the cleaning process, it's crucial to prepare your flat top grill properly. Begin by turning off the grill and allowing it to cool down completely. Safety should always be a priority when dealing with hot surfaces. Once the grill has cooled, remove any excess debris or food particles using a grill brush or scraper. This step helps facilitate the subsequent cleaning process and prevents unnecessary buildup.
Removing Grease and Food Residue
To tackle stubborn grease and food residue, you'll need a few essential tools and ingredients:
1. Grill Scraper
A grill scraper with a long handle is an invaluable tool for removing stuck-on grease and food residue from the flat top grill. Hold the scraper at a slight angle and apply firm pressure as you scrape the surface in a back-and-forth motion. Be cautious not to scratch or damage the grill's surface, especially if it's made of stainless steel.
2. Grill Cleaning Solution
A high-quality grill cleaning solution is a must-have for deep-cleaning your flat top grill. Look for a product specifically designed for grills that effectively cuts through grease and breaks down stubborn residue. Follow the instructions on the cleaner's packaging for optimal results.
3. Hot Water and Sponge
Fill a bucket or basin with hot water and add a small amount of dish soap. Dip a sponge or soft cloth into the soapy water and gently scrub the entire surface of the flat top grill. This step helps remove any remaining grease or residue and leaves the grill looking clean and shiny.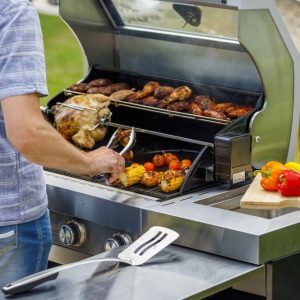 Deep-Cleaning Your Flat Top Grill
While routine cleaning after each use is essential, periodic deep-cleaning is necessary to maintain your flat top grill's peak performance. Here are some additional steps to ensure a thorough clean:
1. Heat the Grill
Turn on the flat top grill and allow it to heat up for a few minutes. The heat will help loosen any hardened grease or carbon buildup, making it easier to remove.
2. Scrape and Clean
Using a grill scraper, carefully scrape off any loosened debris from the heated grill surface. Be cautious not to touch the hot surface directly and always wear protective gloves.
3. Apply Cleaning Solution
Once you've scraped off the loose debris, apply a generous amount of the grill cleaning solution to the surface. Allow it to sit for a few minutes to penetrate and break down any stubborn residue.
4. Scrub and Rinse
With a grill brush or scrub pad, vigorously scrub the grill surface, focusing on areas with heavy grease or buildup. Use circular motions to dislodge the residue effectively. Afterward, rinse the grill thoroughly with water to remove all traces of the cleaning solution.
5. Dry and Season
After rinsing, use a clean cloth or paper towels to dry the flat top grill completely. This step is crucial to prevent any potential rust or corrosion. Once dry, apply a thin coat of cooking oil to the grill surface to season and protect it until your next grilling adventure.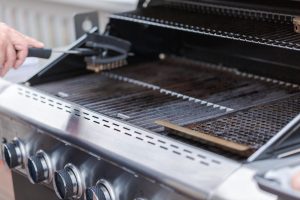 Maintaining Your Flat Top Grill's Performance
Routine maintenance is key to keeping your flat top grill performing at its best. Here are some tips to ensure ongoing optimal performance:
1. Clean After Each Use
Make it a habit to clean your flat top grill thoroughly after each grilling session. By removing grease and residue promptly, you prevent them from hardening and becoming more difficult to remove later.
2. Season Regularly
Periodically re-seasoning your grill helps prevent rust and keeps the surface well-protected. After cleaning, apply a thin layer of cooking oil to the grill and heat it for a few minutes to create a protective coating.
3. Cover and Store Properly
If your flat top grill is exposed to the elements, it's essential to cover it when not in use. A quality grill cover will protect your grill from dust, dirt, and moisture, preventing potential damage and extending its lifespan.
4. Conduct Routine Inspections
Regularly check your flat top grill for any signs of wear or damage. This includes inspecting the burners, knobs, and other components. Address any issues promptly to ensure safe and efficient operation.
Conclusion
Cleaning a flat top grill is a vital part of the grilling experience. By following the steps outlined in this guide, you can achieve a spotless and well-maintained grill that will enhance your cooking results and prolong the life of your equipment. Remember to clean your grill after each use, deep-clean periodically, and conduct routine maintenance to keep it performing at its best. With proper care and attention, your flat top grill will continue to be a source of culinary delight for years to come. Happy grilling and happy cleaning!