White coffee table: How to choose your favorite white coffee table?
    A white coffee table can be a gorgeous addition to any living room. The light and airy color opens up the space visually and gives off a clean, minimalist vibe. When shopping for a white coffee table, there are a few key factors to consider so you choose one that fits your style and needs perfectly.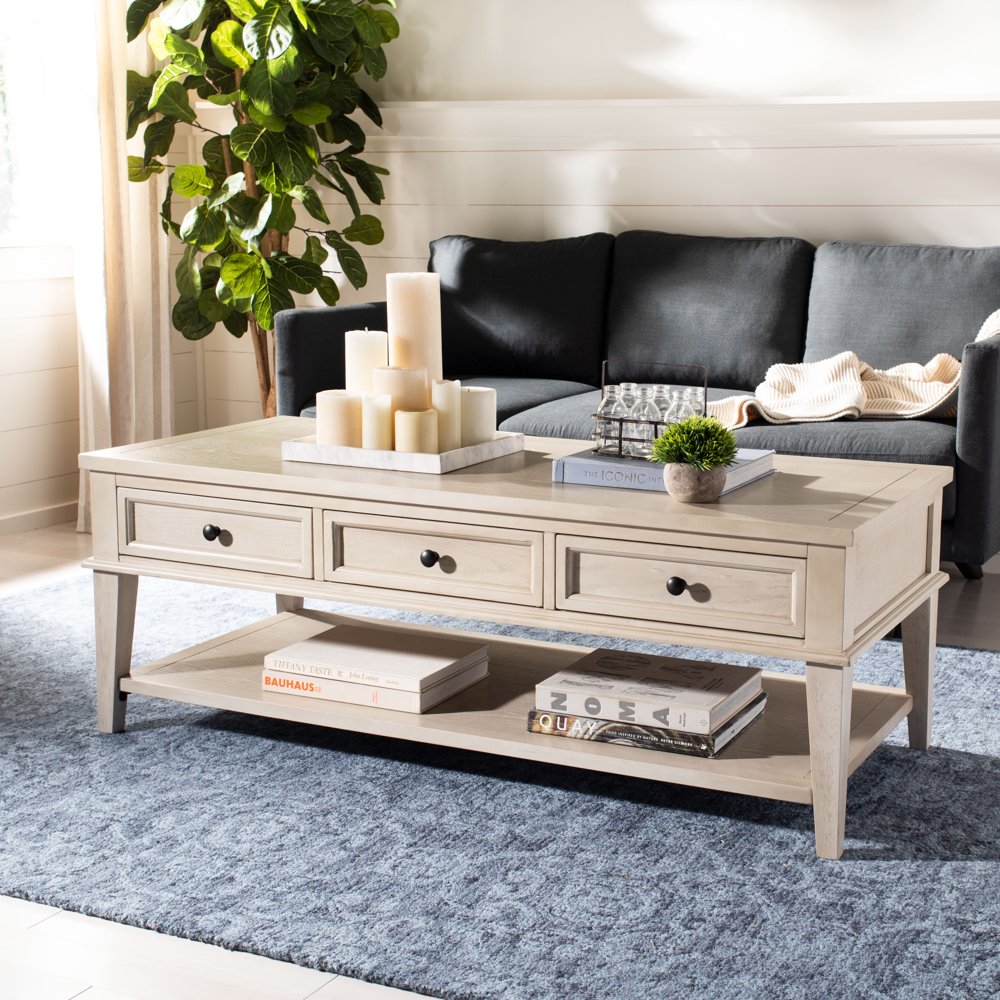 Size and Shape
When choosing a white coffee table, the size and shape are important considerations. Take measurements of your living room and seating arrangement to find a coffee table that's proportional. A table that's too small can look out of place, while one that's too large can make the room feel crowded.
Rectangular coffee tables are versatile choices that work well in many spaces. Round and oval white coffee tables save space and create a soft, organic shape. Square coffee tables have a more structured look. Take your overall decor into account when choosing between these options.
Material
White coffee tables come in a range of materials, each with their own aesthetic and functional qualities.
Wood: Natural wood coffee tables have beautiful grain patterns that add warmth and texture. White oak, maple, and birch are popular woods used in minimalist and Scandinavian decor.
Lacquer: Lacquered tables have an ultra-glossy painted white finish. The lustrous sheen has a glamorous, elegant effect. Lacquer is also durable and stain-resistant.
Marble: For an upscale look, a white marble coffee table makes a stunning statement. The white veining has a depth and richness that pairs perfectly with the light color.
Glass: A glass white coffee table maintains an airy, lightweight appearance. Tempered glass tops are very durable. For added interest, look for ones with faceted edges or frosted glass.
Style
To choose a white coffee table that enhances your living room decor, keep the overall style in mind.
Modern: A spare, linear table with metal accents has a sleek contemporary vibe. This suit spaces with clean lines and minimal ornamentation.
Rustic: For a cozy cottage feel, choose a rustic whitewashed table or one made from reclaimed wood. Natural textures and subtle distressing add casual flair.
Retro: Round tables with tapered legs have a retro 1950s charm. Clear acrylic coffee tables also have a fun, nostalgic feel.
Glitzy: Mirrored or glass-topped tables with metallic bases bring some glamorous shimmer to formal living rooms.
Functionality
Aside from looks, don't forget the functional purpose of your white coffee table.
Storage: Look for coffee tables with drawers, shelves, or cabinets to keep remote controls, books and more hidden but conveniently accessible.
Lift-top: Lift-top coffee tables allow you to raise the table surface up and out of the way as needed. These are excellent options for small spaces.
Trays: Tables with built-in trays provide more surface area for holding drinks and snacks, while protecting the tabletop underneath.
Wheels: Mobility can be useful for rearranging your space. Tables with wheels or casters let you easily roll them around the room.
With so many wonderful options, it's easy to find the perfect white coffee table to refresh your living room. Take the time to consider size, shape, style and what added features you need. Then you can enjoy coffee and conversation in style.