The Timeless Elegance of the Black Dining Table
Few furnishings convey such an air of stately sophistication as a handsome black dining table. The rich, saturated color and smooth, uniform surface create a dramatic anchor point for any dining space. As classic as it is contemporary, a black dining table remains always in style.
From formal banquet halls to urban lofts, black dining tables project visual weight and importance. Let's explore how this versatile shade enhances any dining experience.
Commands Attention
Against pale walls or light flooring, a black dining table immediately draws the eye, becoming the undeniable focal point. The uniform color palette creates a stabilizing influence within open, airy rooms.
Black's inherent versatility also enables it to stand out or recede depending on the surrounding décor. Boldly modern…elegantly timeless…black adapts to any desired aesthetic.
Complementary Canvas for Dining
While visually impactful on its own, a black dining table also provides the ideal subtle backdrop for dining accouterments. Vibrant dishes pop against the dark surface. Metallic serveware glistens, and organic textures contrast beautifully.
A black table lets you play with colorful tablecloths, runners, place settings and centerpieces while retaining a cohesive, sophisticated style.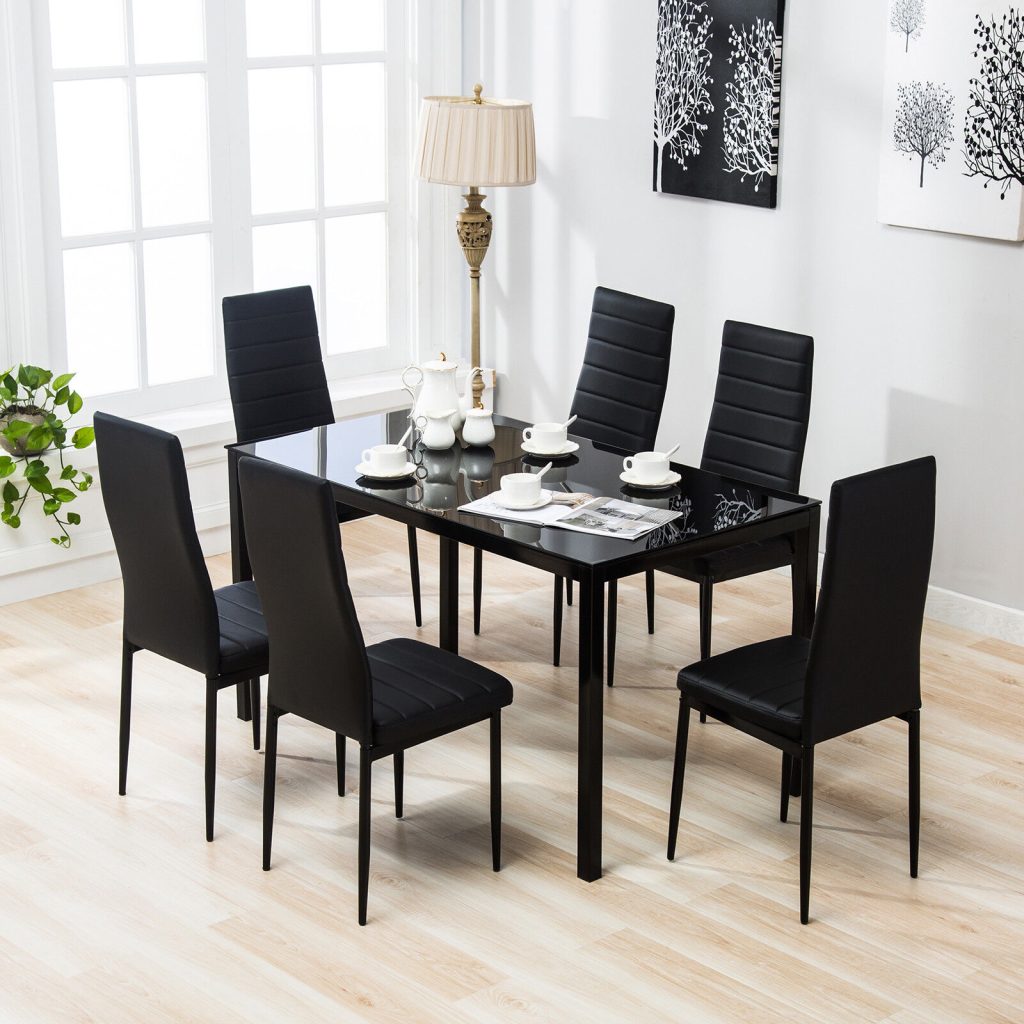 Choose a Striking Surface
From sleek lacquered finishes to natural wood grains, black dining tables showcase stunning surfaces:
Lacquer or varnish – Reflective layers protect and add liquid-like luminosity.
Glass tops – Opaque or transparent glass provides a weightless floating effect.
Walnut – This dark wood exhibits flowing chocolate and mocha tones when finished.
Wrought iron – Intricate twisted metalwork embodies old-world charm.
Crafted to Last Generations
While a dramatic choice, quality black dining tables withstand years of regular use and remain timeless keepsakes:
Seek solid wood or durable modern composites like fiberboard over thin veneers.
Examine construction including stable legs, corner blocks, and reinforced joins.
Select gloss finishes or protective seals that prevent scratches and stains.
Choose thicker tabletops, 1 inch+ for longevity and stability.
Styling a Black Dining Table
Once you've selected the perfect black dining table, complete the look with stylish accents:
Contrast with light-colored leather or velvet chairs.
Incorporate metallic elements like candleholders, vases and charger plates.
Layer colorful or patterned table linens in any hue.
Finish the space with striking light fixtures or chandeliers.
Make every meal an elegant affair with a classic black dining table as your new anchor piece. Effortlessly stylish yet infinitely adaptable, embrace black as the versatile hue to bring cohesive beauty to your dining space.