The Warmth and Texture of Round Wood Coffee Tables
In the vast array of coffee table options, few materials bring such a sense of richness as natural wood. Beyond just material, the round wooden coffee table offers unmatched beauty, versatility, and practicality for living spaces of all kinds.
With its welcoming organic shape, tactile finish, and handcrafted charm, a round wood coffee table may just be the perfect furnishing for creating an inviting relaxation zone in your home.
Flowing, Sculptural Shape
The smooth rounded edges of a circular tabletop soften the often harsh right angles found in most modern decor. Visually, round shapes feel comforting, approachable and serene.
The circular form also enables flexible furniture arrangements that promote interaction and conversation between couches and armchairs.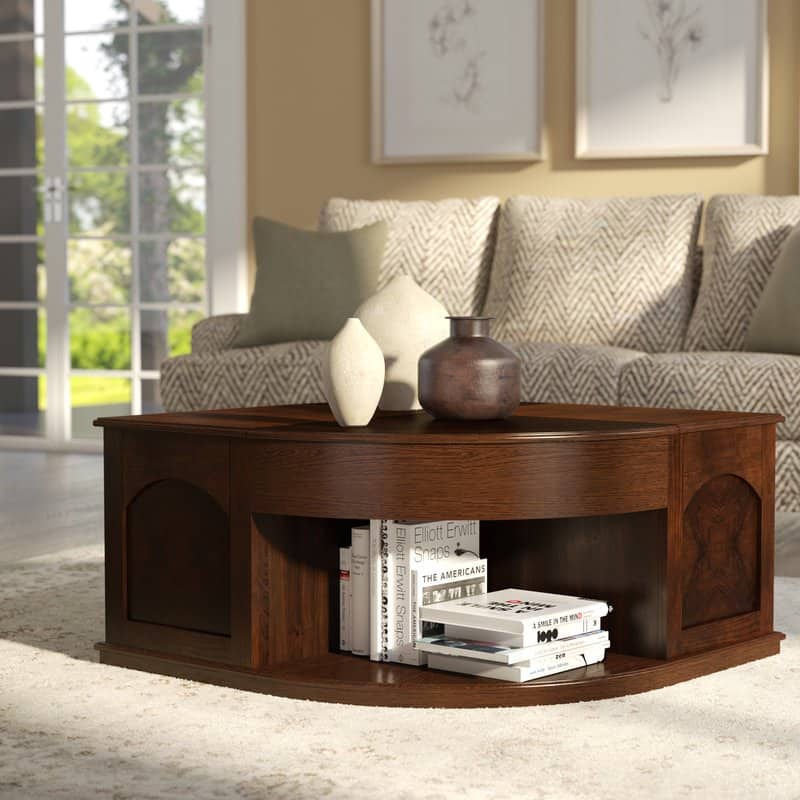 Multifunctional Circular Surface
Don't let the elegance of a round wooden table fool you – this workhorse furnishing remains profoundly practical. The generous surface accommodates everything from snack platters to board games with ease.
Built-in shelves, drawers and lift tops maximize usable space for storing remotes, coasters and other coffee table accessories out of sight.
Showcasing Wood's Unique Beauty
Coffee tables highlight the stunning imperfections that make wood such a prized material. Each circular tabletop exhibits its own whorls, knots and grain patterns that bring visual interest.
Different wood species offer further options like oak's hearty grain, maple's blonde radiance, or walnut's chocolate waves. Round shapes show off the wood's beauty.
Design Flexibility
With its almost infinite variety, wood adapts seamlessly into any design motif you wish to create:
Mid-century modern spaces gain warmth from rich teak or walnut.
Farmhouse styles embrace reclaimed barn wood tables with artisanal charm.
Sophisticated living rooms choose sleek lacquered surfaces in black or white.
Metropolitan lofts showcase live-edge slabs with organic texture.
The simplicity of the round shape lets the wood materiality shine as the standout feature.
Built to Last Generations
While visually stunning, round wood coffee tables also retain incredible durability and longevity when properly crafted:
Select solid hardwood construction over wood veneers prone to damage.
Choose durable, high-grade finishes like polyurethane that protect from scratches and spills.
Ensure table bases and joins showcase expert carpentry for structural integrity.
Seek out mortise and tenon and other time-tested joinery techniques.
Check for corner block reinforcements and thick tabletops resistant to warping.
Rounded appeal meets earthy elegance. A round wooden coffee table sets the tone for a space designed to delight, welcome, and endure through time.