The Distinctive Style of Oval Coffee Tables
The coffee table remains one of the most prominent furnishings in any living room decor. While rectangular and square shapes reign supreme, the oval coffee table offers a unique silhouette that brings visual interest to a space.
Oval shapes add softness to modern designs and a contemporary edge to classic rooms. With the right styling, oval coffee tables become a distinctive focal point.
Complementary Curved Form
The elliptical form of the oval coffee table contrasts beautifully against the rigid right angles found in most living spaces. The interplay between the table's sweeping curves and square furniture silhouettes adds character.
Placed strategically between sofa and armchairs, oval tables create an inviting flow for conversation and interaction. The smooth, rounded edges also prevent bruised shins and knees!
Space-Saving Design
Oval shapes make exceptional use of available floor space. Their narrower mid-sections tuck neatly into tighter groupings and layouts where a bulky rectangle would overwhelm.
In smaller living rooms, oval coffee tables maximize surface area without dominating sight lines. Their slim profile maintains an airy, open ambience throughout the space.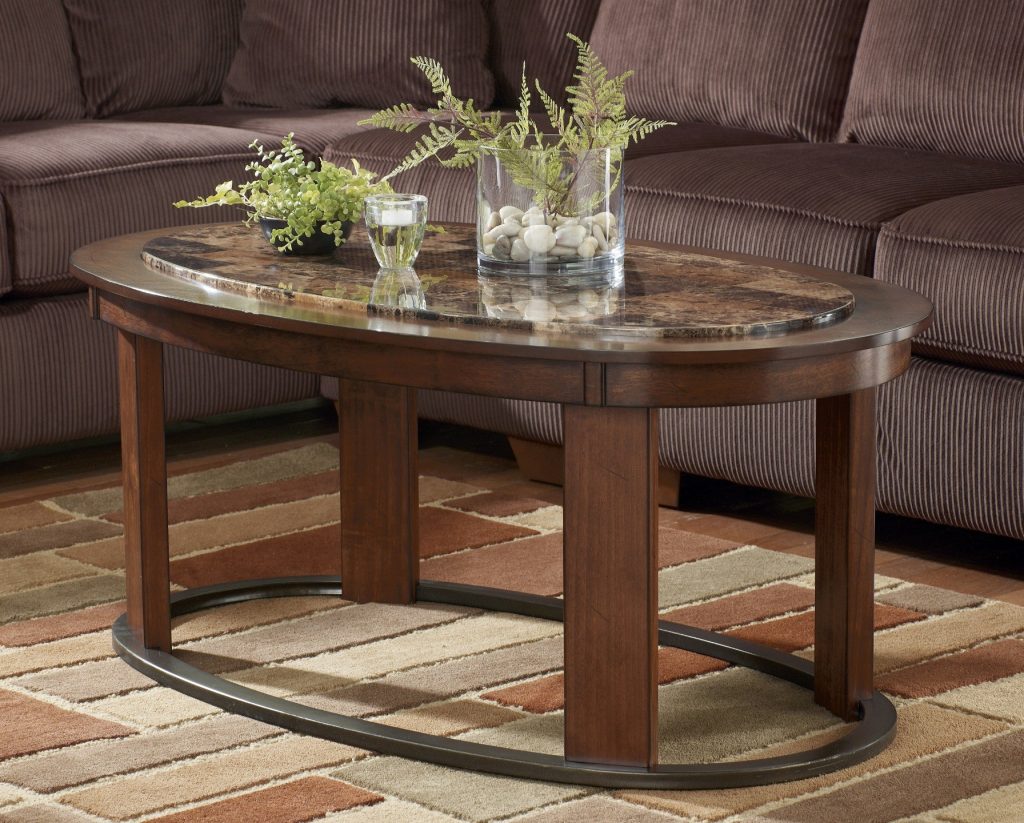 Showstopper Styling Potential
Beyond its funky shape, an oval coffee table presents abundant styling possibilities. The continuously curved edges seem to disappear, letting other decorative elements shine.
Play with eye-catching choices like sleek glass or metallic finishes. Include storage features like shelves or lift tops to maintain clutter-free surfaces. The oval frame invites creativity.
Mix and Match with Your Existing Aesthetic
An oval table's adaptable appeal means it blends beautifully into all types of decor. Modern spaces benefit from the softness its shape lends to stark lines and edges.
Traditional rooms embrace the whimsy of the elliptical form. And eclectic spaces allow the oval silhouette to add its own unique flourish.
Tips for Selecting an Oval Table
Measure furniture configuration and space to ensure proper fit.
Look for a height of 16–18 inches for easy reachability.
Choose durable materials like wood, marble or metal.
Seek quality construction including strong base and joinery.
Opt for 36-42 inch width to comfortably accommodate decor.
Consider storage options like shelves and lift-tops.
Choose colors and finishes that integrate into your existing palette.
Make a statement by breaking from convention. With its distinctive frame and versatile styling, the oval coffee table lends any living room an air of edgy sophistication.