Marble Dining Tables : Timeless Elegance for Your Home
When designing a formal dining area that will stand the test of time, few materials exude such opulence as natural stone marble. The inherent grace, luxury, and versatility of marble dining tables have made them sought-after centerpieces for centuries.
From stately manors to urban lofts, marble imparts elegance while making a striking focal point. Discover why this stunning natural material may be the perfect choice for your home.
Artistry from Nature
Marble forms over millions of years as layers of mineral sediment compress under intense pressure. No two marble slabs exhibit the same veining, flecks, and tones, making each dining table uniquely beautiful.
The delicate patterns and subtle palette evoke a sense of refined sophistication. Yet the hardy mineral composition provides enduring strength and stability for generations of use.
Visual Presence and Weight
A marble dining table commands attention through its inherent mass and weight. Thick slabs convey a sense of permanence that beautifully balances delicate chair furnishings.
The smooth, cool surface adds texture and depth as light plays across the soft gray veining. The visual density marble lends to a space creates an atmosphere of timeless splendor.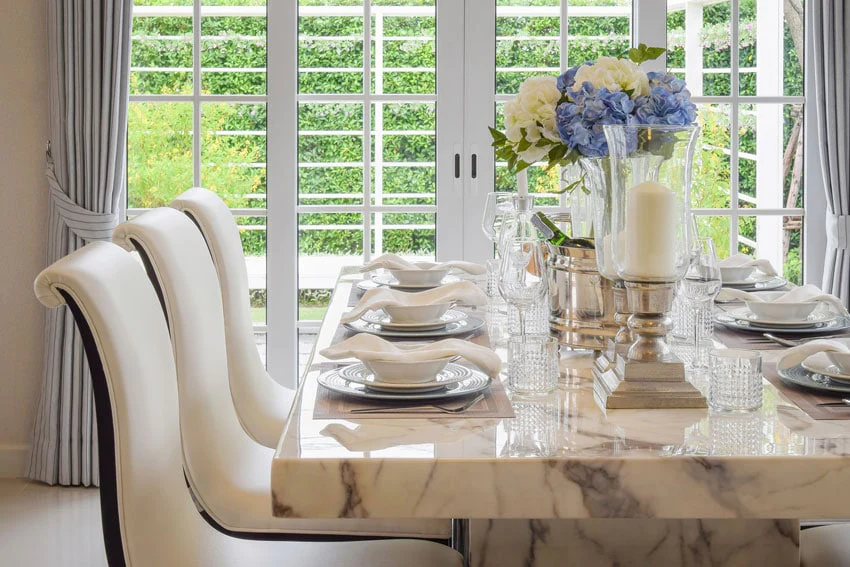 Mix and Match Styles
Beyond the material itself, marble dining tables come in a stunning range of shapes and bases to complement your existing decor.
For contemporary spaces, pair a bold marble rectangle with acrylic legs. Ornate cabriolet legs provide contrast to a round marble top for a more traditional look.
Dark Emperor marble pops against metal accents in modern, minimalist rooms. The versatility of marble at the dining table is virtually endless.
Care and Maintenance
While durable, some basic care helps preserve the beauty of your marble dining table:
Use coasters under glasses to prevent etching from condensation.
Seal the marble yearly to limit absorption of spills and stains.
Clean with pH-neutral gentle cleaner to avoid damaging the surface.
Use place mats and tablecloths during meals to protect from scratches.
Avoid direct heat exposure from hot pans, which can scorch marble.
Stunning Marble Varieties
From bold veining to subtle neutrals, select a marble dining table to complement your decor:
Elegant white Carrera features gray-blue veining for a refined look.
Grey Emperor marble from Spain provides a dramatic smoky finish.
The distinctive rose tone of Pink Tehran marble pairs beautifully with gold accents.
Green Guatemalan marble delivers a bold punch of unexpected color.
Quality Craftsmanship
Exceptional marble dining tables are crafted using a single slab to ensure color uniformity across the surface. Quality stone from countries like Italy or India limit veining imperfections.
Opt for a thickness of at least 2-3 cm for stability, as thinner marble cracks under weight. Take time to find a table handcrafted by experts that becomes an instant family treasure.
Make a statement with a natural marble dining table. The intricate artistry and striking elegance marble exudes creates an atmosphere of luxury in any home. Gather for meals, celebrations and memories around this timeless tabletop.