Maximize Any Space with a Wall-Mounted Desk
For many modern professionals and students, working and studying from home has become the new normal. Finding an efficient workspace within limited square footage poses an ongoing challenge. Enter the ingenious wall-mounted desk – the perfect compact furnishing for optimizing any room.
Mounting your desk directly on the wall frees up valuable floor space for other activities. Discover how this savvy solution makes the most of the apartments, small offices, and multipurpose areas.
Reclaim Floor Area in Any Room
Typical bulky desks can easily dominate a room. Wall mounted options take up zero footprint, leaving you flexibility to use the rest of the space as needed. Turn your bedroom into a guest room or yoga studio when not working. Let kids use their room for playtime outside of homework hours.
For small apartments, mounting desks on the wall also allows room for a sofa, dining table, or other necessary furniture. Get an expansive workspace while keeping your home livable.
Customize the Perfect Fit
The ideal work area minimizes distractions while remaining comfortable and accessible. Wall mounted desks allow you to customize dimensions and placement to suit your needs:
Adjust length for adequate surface area and legroom.
Set mounting height for ergonomic sitting or standing.
Swivel, tilt, or rotate the entire desk for optimal visibility.
Integrate customized organization with shelves and filing.
Creating a workspace tailored for efficiency and enjoyment promotes productivity.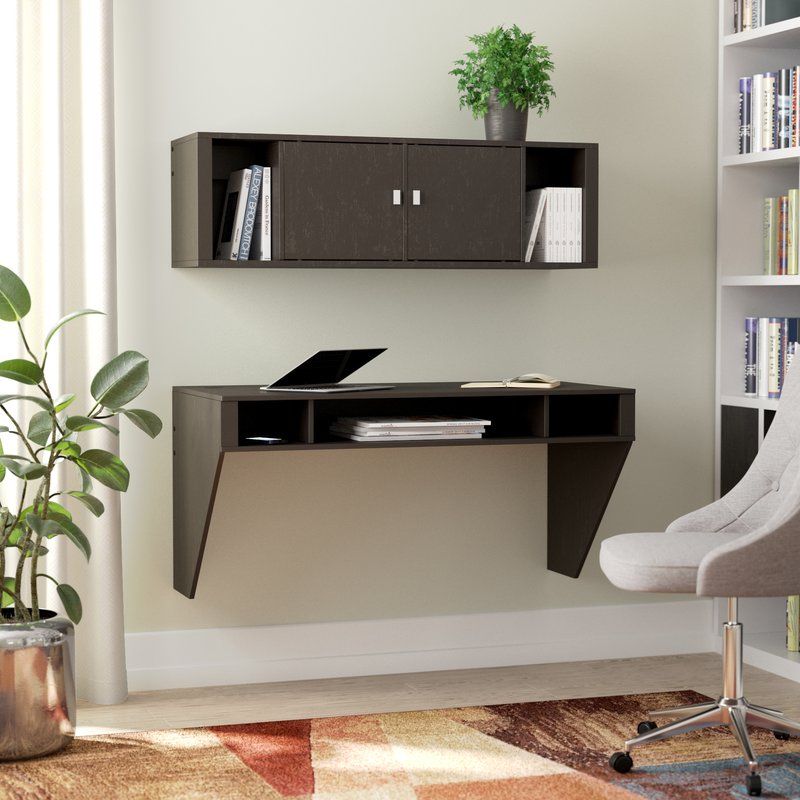 Contemporary, Minimalist Look
Beyond just practicality, a wall mounted desk also makes a design statement. The sleek, floating aesthetic complements modern and industrial decors. The thin profile contrasts beautifully with vintage, ornate, or eclectic surroundings.
With desks available in materials from solid hardwoods to painted MDF and metal, the options integrate effortlessly into any color scheme. Keep it simple or get creative with shapes like curves and angles.
Quality Materials Built to Endure
Sturdy craftsmanship ensures your mounted desk survives years of use with strength and stability:
Select desks with steel bracket mounts properly anchored into studs.
Opt for waterproof and stain-resistant laminate or wood surfaces.
Choose adjustable models that enable you to fine-tune placement.
Look for cord management slots to minimize clutter.
Invest in quality, and you'll enjoy a fully functional workspace for the long run.
Stay Focused and Inspired
Beyond square footage, a wall-mounted desk also impacts workflow and motivation. The clean backdrop and minimal surroundings keep you focused on work tasks. The unique vantage point from an elevated desk can offer fresh creative perspective.
Strategically place your desktop in a room with invigorating views of nature. Let the sunlight shine in while you work. A well-designed wall-mounted workspace influences how you feel and perform throughout the day.
Shared Spaces Made Simple
Wall-mounted desks also streamline workspaces for multiple users. Flip up or slide away models efficiently convert shared rooms like kitchens and dens into part-time offices. Individualized wall desks allow family members to personalize their own stations.
Quickly alternate between users by pivoting or sliding desks out of the way when done. Make light work of managing a multi-person home office.
Flexible Integration with Your Layout
Don't limit yourself to simply mounting against an existing wall. These nimble desks can be integrated into room dividers, built into shelving units, or even hung from the ceiling.
Get creative with placement to carve out workspace in unconventional areas. Let your wall-mounted desk define zones while opening up possibilities.
Reimagine what your space can be with an ingeniously designed wall-mounted desk. Free up valuable real estate while building a personalized productivity hub. Then sit back comfortably and enjoy the benefits of brilliant use of space.