The Sleek Sophistication of Square Coffee Tables
    In the quest for the perfect coffee table, few shapes exude such bold, contemporary style as the square. With its geometric proportions and crisp symmetry, the square coffee table makes a dramatic statement in any living space. Discover why this versatile shape may be the modern upgrade your decor is craving.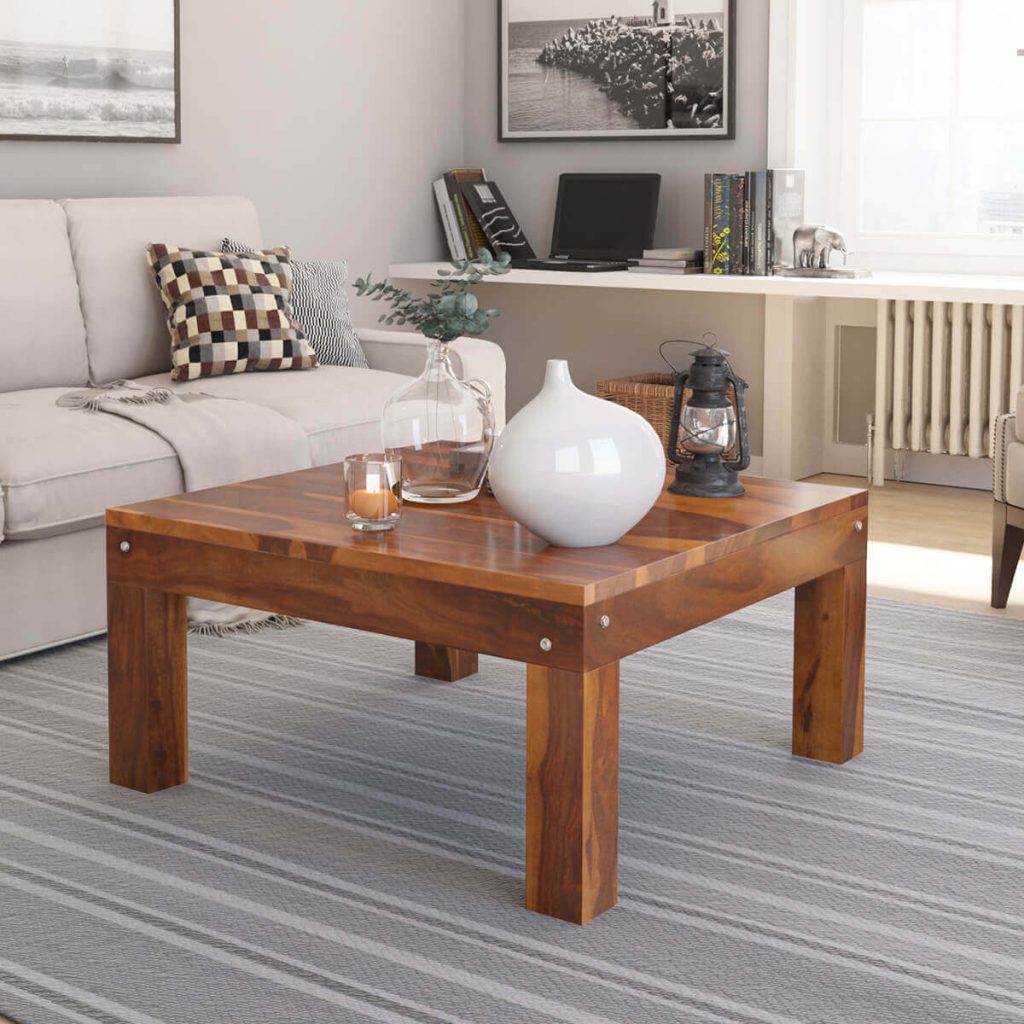 Maximizing Form & Function
Square tables optimize both aesthetic appeal and practical use. The expansive tabletop provides ample display space for decor and serveware while accommodating drinks and snacks during gatherings. The sleek 90-degree corners complement modern sofas and seating arrangements.
When shopping, seek out square coffee tables between 40 and 50 inches wide. This substantial surface area ensures all guests can comfortably reach snacks and coasters from their seats.
Complementing Contemporary Style
With their streamlined silhouette, square coffee tables intrinsically align with contemporary, trend-forward decor. The bold squared lines lend an edgy, urban feel that contrasts beautifully against plush cushions and curved seating.
Beyond the shape itself, daring combinations like black lacquer and chrome or warm acacia wood and blackened steel legs exude modern flair. Their simple form allows innovative mixed media tables to become focal points.
Mix & Match With Your Existing Pieces
The adaptable aesthetic of the square coffee table enables it to accentuate an array of furnishing styles. Mid-century modern living rooms benefit from a rich walnut or teak square table, enhanced by subtle tapered legs. For urban lofts, concrete and metal tables add gritty texture.
Incorporating a square table into your current layout is seamless. The unfussy shape complements without overpowering. Freshen up your space by introducing a square table that speaks to your personal sensibilities.
Curating Your Tables cape
Once you've selected the perfect square coffee table, elevate its impact with artful telescoping touches:
Display coffee table books relating to your hobbies and interests to infuse personality.
Incorporate tray decor that complements your color scheme and design aesthetic.
Curate vignettes that tie in seasonal or holiday-specific accessories.
Add candlesticks, flowers, bowls, and other accent pieces for layered style.
Built to Last for Years to Come
To enjoy your square coffee table for the long haul, examine construction and materials closely. Seek out solid wood over veneers for scratch resistance and stability. Durable tempered glass tops stand up to daily use without marring.
Metal bases like powder coated steel prevent rusting and tarnishing. Explore handcrafted options from expert artisans for heirloom-quality longevity.
Invest in your bold design vision. With its architectural silhouette and endlessly adaptable styling potential, a square coffee table makes an assertive centerpiece guaranteed to elevate your space.