The Simple Beauty of a White Computer Desk
In today's modern world, our home offices have become an integral part of both our personal and professional lives. With so many of us now working and studying from home, having an efficient yet attractive desk space has never been more important. That's why a white computer desk can be the perfect addition to create a light and airy workspace.
Minimalism Made Easy
White desks embody a clean, minimalist aesthetic that promotes productivity. The crisp white color palette evokes a sense of openness and space – ideal when you may be feeling boxed in from working at home day after day. White also reflects light beautifully, making your work area feel more expansive and preventing eye strain.
Beyond just looking great, a white desk is easy to incorporate into any existing decor. White desks effortlessly complement both light and dark color schemes. Their neutral tone allows them to blend seamlessly with different woods, metals, and paint colors already present in your home office. You don't have to completely redecorate just to add this contemporary yet classic piece.
Simplicity Meets Functionality
Though stunning in their simplicity, white desks still offer plenty of functionality. Many feature drawers and shelves to neatly organize office supplies and minimize desktop clutter. The smooth, bright surface also makes cleaning a breeze – just a quick wipe down keeps your workspace looking pristine.
When shopping for a white computer desk, look for quality construction and materials to ensure durability and longevity. Medium density fiberboard (MDF) or particle board cores with high pressure laminate (HPL) surfaces resist scratches, stains, and dents while providing a brilliant white finish. Sturdy metal legs add strength and style.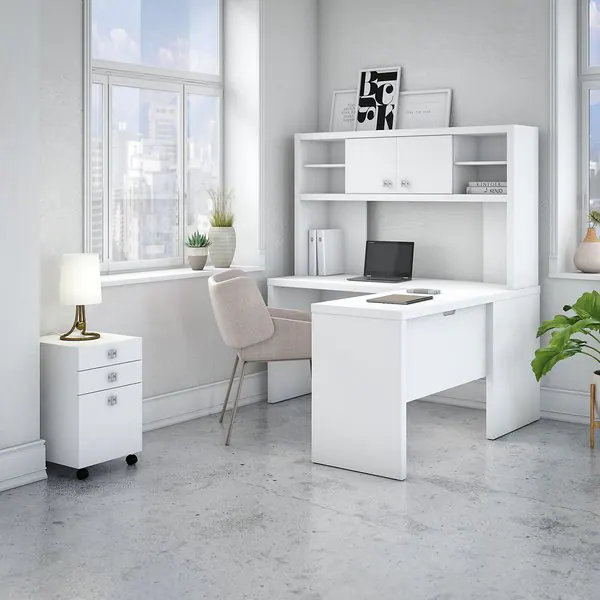 Choose the Right Size
Available in a range of dimensions, it's easy to find a white computer desk sized perfectly for your space. Small desks around 40 inches wide work well in compact home offices, while larger 60 inch desks offer expansive workspace. For small spaces, consider a corner desk that makes use of angled walls.
Take measurements of the area where you plan to place your desk along with the footprint of your computer, devices, accessories, and other items you'll need desktop real estate for. This will help you select a size that's a great fit.
Convenient Features
Once you've chosen the right dimensions, consider which features will enhance your experience:
Storage space – Look for drawers and shelves to corral office supplies, electronics, and files so your desktop stays organized.
Cable management – Features like grommets or cutouts to thread cables through keep cords from cluttering your workspace.
Adjustability – Height adjustable legs allow you to alternate between sitting and standing throughout the day.
Keyboard tray – Pullout trays position your keyboard at an ergonomic height while freeing up desk space.
The Perfect Finishing Touch
A white computer desk can be the ideal finishing touch to any home office makeover. With an elegant, minimalist look, smart functionality, and easy-to-match neutral tone, a white desk is a versatile choice guaranteed to lend an airy, modern feel. By selecting the perfect size desk and features for your needs, you'll create a workspace that is tailored for efficiency, comfort and style.
With the right white computer desk, you can enjoy a clutter-free, motivating environment each time you sit down to work. A brilliant white workspace inspires productivity and creativity, all while blending seamlessly into your home decor. Discover the simple beauty of a white desk to elevate your home office today.